Cost FAQS
We are often asked if we can Ball Park or Estimate the cost to build a project? There are many questions that need answering on a project such as the following.
How many rust spots does your project have?
How many parts need to be replaced?
How much time will it take to locate and purchase each part?
What will the quality level of the parts be that are available such as used, repo or New Old Stock?
If reproduction parts are available how much re-work time will they take to satisfy our quality requirements ?
How long will it take to build or fabricate those parts that are not available?
By The Hour Build
Because of these unknown factors we are unable to "guesstimate" the cost to build a project. We strictly perform "by the hour" billing on all labor including the shop materials used on your project. In addition we always seek our client's approval as their project is being built with addendum's on any changes from original equipment.
Once the Project is disassembled and stripped of all paint and undercoatings we draw up a comprehensive plan on the project in keeping with the customers desires.
A successful project plan will focus on three areas: Written work plan, Comprehensive tracking system, Follow up system.
This Silver Karmann Ghia came to us in very rough and rusty condition and it costs over 85K for us to perform the labor to complete it. Keep in mind that a vehicles overall condition and the amount of original or custom parts needed varies so comparing a project to another one will more then likely be inaccurate.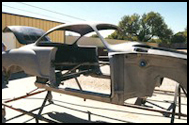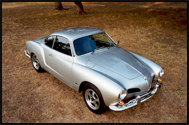 No Profit On Materials / Parts
We charge for the time spent finding parts and specific materials on a project, however the cost of the specific materials and parts are passed through to our Clients at "Our Cost" and billed to the Clients credit card whenever possible with the original invoice sent to the Client.
We do not have the man power to hunt down or research any Non Client requests for parts, supplies or technical information. Thank you for your understanding!
CUSTOMERS BEWARE of PRICE QUOTES
50 Ford Body!
Billing invoices-paper work sent to our customers.
The labor records from our crew provide written information pertaining to your project each day it is worked on.
With each invoice, you will also receive a summary of the total hours performed by each crew member.
The telephone log sheets provide information about each call that is placed on your behalf and a record of any parts ordered on your credit card at our cost. We simply send you the original invoice at NO Profit to us.
Authenticity is vital to the customer who desires a totally original show car. Through research, documentation, digital photos and phone calls to the right people we unravel the mystery to build it correctly.
Dis-assembly records and parts replacement forms are used to help us achieve the desired results.
You will receive digital images via pdf through email with each invoice you receive.)
What type of project are you interested in building ?
1. Original : a vehicle built the same way as it was from the MFG. numbers matching etc. Although It would be restored to a greater level of cosmetic quality then a production line original vehicle.
2. Resto Mod : features an original looking exterior but is upgraded with a modern drive train including engine, transmission, brakes, and chassis suspension tweaks, A/C and other creature comforts you have come to expect.
3. Pro Touring: often features body mods on the exterior, hi horsepower drive trains and full suspension modifications for superior road and track handling. Original or custom colors are an option.
4. Hot Rod : usually referred to as a 1949 and newer body style with custom modifications to the drive train, suspension, interior and body including custom paint. This includes the old hot rodder look !
5. Street Rod : a pre/before 1949 Body style and is usually custom built for the driver to fit him or her specifically. Everything from mild to extreme drive trains are installed including numerous custom fabricated parts. Custom paint jobs with body modifications are quite common.
Of course you can combine any of these for your own preference. We are here to build your
dream ride to suit your personal taste!
Investment
If I restore or build a custom vehicle will It be a good return on my investment if sold at a later date?
1. The value of any particular vehicle depends on how collectible and/or desirable it is. For example lets say that there is a Fiat with 10,000 parts and a Ferrari with 10,000 parts to restore. Although no two cars are the same as no two snow flakes are identical we will still use this to compare value. Lets say that these two cars have the same rust, same dents, same price for each part, same availability and time to find each part. In addition they take the same time to fully restore the complete vehicle right down to the minute! The value of the Ferrari is worth 350,000 cash and the Fiat is worth 6,000. Regardless if it took the same investment to restore them we would still have a value difference. Supply and demand will always set values and we cannot change that. The Customer dictates the investment value/return by what vehicle he or she loves.